How to earn carbon credits with afforestation
Things you need to know about afforestation with Arbonics
Afforestation overview
Forestry activity type: planting, forest maintenance, eventual timber harvest
Key criteria: non-forest land, not harvested <10 years prior
Carbon project length: 30-60 years (depends on harvesting cycle)
Expected credits per ha: 120-350 VCUs
Expected credit sales price: €25-50 per VCU
Planting is done by the landowner or their chosen partner
Planting costs are covered by the landowner
What is afforestation?
Afforestation refers to planting new forests on areas that were not forested within the last several decades. This is distinct from reforestation, which involves planting on areas where forests have been cut or otherwise destroyed (e.g. after a fire).
Why does this distinction matter? In the Voluntary Carbon Market (see also: ABC: what is the voluntary carbon market?), reforestation after planned harvests is not usually considered additional, and hence you cannot earn certified carbon credits for it.
Afforestation projects can remove CO2 from the atmosphere, increase habitat areas, improve water quality and provide benefits to local communities.
How and why are afforestation projects certified?
Certification and validation by third parties is necessary if you want your credits to be recognised as high quality and additional; which in turn increases their price (the price differential of certified vs non-certified carbon credits can be as much as 10x).
Arbonics works with Verra, the largest carbon credit standard in the world. More about Verra and other verification providers.
How does an Arbonics afforestation project work?
Any landowner can theoretically start an afforestation project on their own and get it certified. However, certification processes are cumbersome (taking as much as 18 months) and costly (dealing with Verra/other certifier and relevant consultants directly can cost upwards of €50 000 before you earn any credits at all). Arbonics makes the process easier and more affordable by grouping several landowners into a single project and by handling all the relevant paperwork. Additionally, to generate carbon credits Arbonics takes care of data-based monitoring plans, carbon calculations and verification. Arbonics provides this without any upfront fees, instead taking a 10-20% cut on credits generated.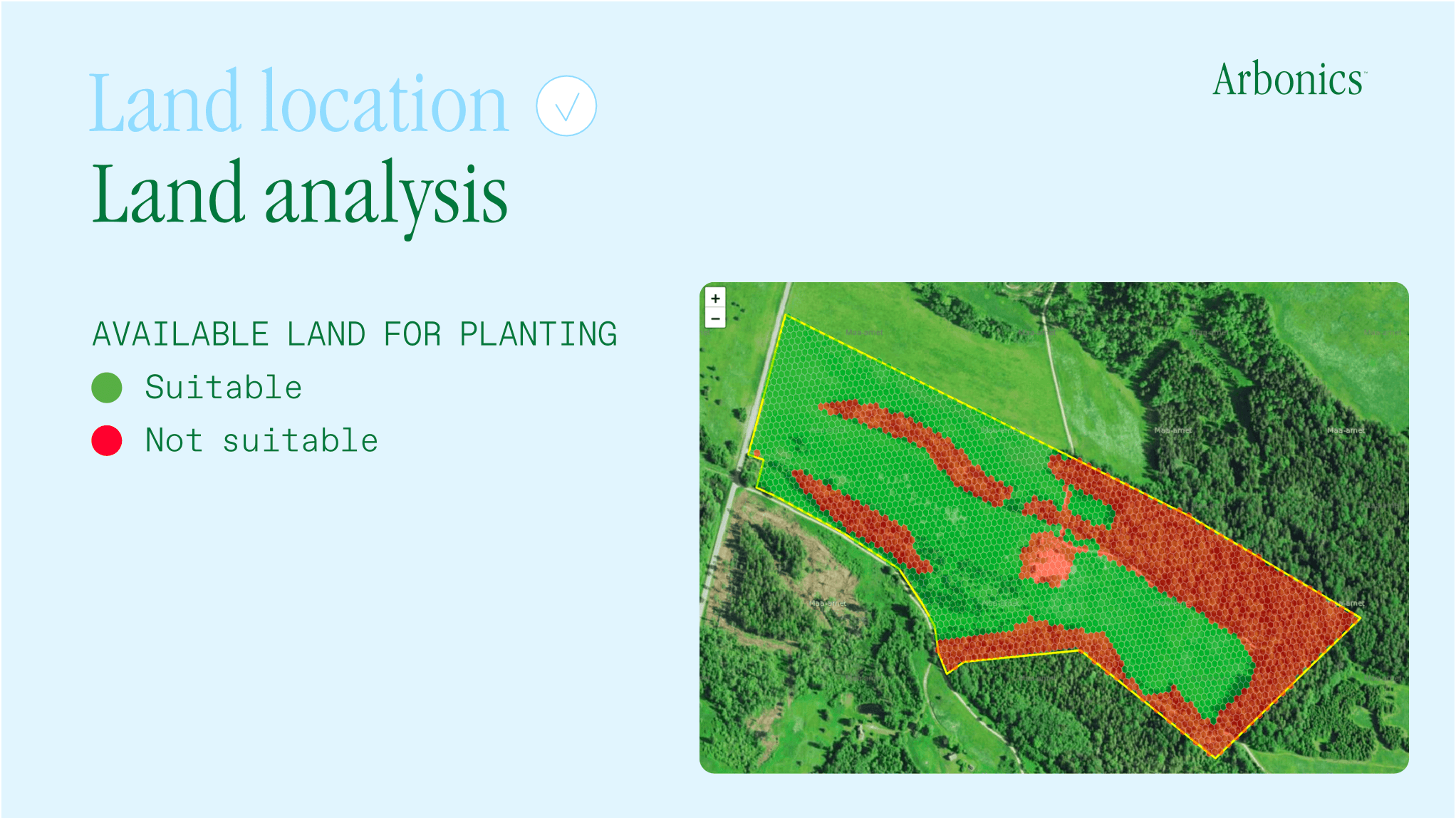 What do I have to do?
First, consider whether you have any lands you'd be open to plant on (remember it can't have had forest on in the last 10 years). Additionally, think through whether you're ready to invest your time and finances into afforestation. Then:
Let us know that you are interested in working with us
If you have suitable lands, we will generate a Carbon Opportunity Assessment for you, where we review your land and let you know how many tonnes of carbon you can potentially generate from afforestation on your land.
We will then agree a planting plan for your lands and move on to discuss contract terms. We'll then sign the contract.
You can decide whether you'll plant on your own or work with a planting partner. If you choose the latter, you will work with the planting partner to agree planting details (e.g. planting time, type of trees planted).
After signing the contract we will also discuss your planting and management plans. We will also agree on what monitoring data you need to pass on to us (usually the same data that you report to government databases).
You plant the trees according to your planting plan, monitoring and verification of credits will start according to the agreed plan.
Depending on whether you choose to receive carbon credits (VCUs) or cash payments, your first pay-out will likely occur in two to five years.
If you haven't already, fill out the introduction form here to get started.
Arbonics is a tech-based carbon and ecosystem platform for forest-and landowners in Europe – bridging the analogue world of forestry with the world of tech to fight climate change. We partner with landowners to access new revenue streams by helping them quantify, monitor and sell the environmental benefits of sustainable land management.
Are you a landowner? Introduce yourself here and we will get in touch to discuss opportunities with your land.
Subscribe to our newsletter here and follow us on Facebook, LinkedIn and Twitter for latest news.